Rincon vs Grizzly 700
---
During an ATV safety course today there was a Rincon and Grizzly 700 side by side and gave me an opportunity to compare the two machines.
Here are the things that I notice:
The Grizzly sits way higher. I thought it had a lift kit but it was stock. Rincon looked like a low rider next to it.
The Rincon handled much better in turns and was very stable while the grizzly seemed tippy.
The rincon had a visibly smoother ride over bumps.
The rincon is actually a little wider than the grizzly, another reason it was more stable.
The hight of the seat, from the foot pegs is much higher on the grizzly. They may provide a slightly more comfortable ride but it makes it harder to shift your weight on the seat.
The power steering also seemed the rider to overcorrect in steering . This may be due to lack of experience but it did not look like it to me.
Being that I am more of a trail rider this makes me even happier that I chose the rincon (not that I ever thought about the grizzly).

the rincon owner also informed me that the times they had went riding together he had to keep pulling the grizzly out.

Just thought I would share this with you all.
---
Green 2007 Rincon with 26" Bighorns, Warn RT25 winch, Symtech heated grips/throttle, fly rod tube holders, Kimpex fender guards with foot pegs, Kolpin Bootector bracket, and Quadrax rear seat.
ASI Ridercourse Instructor.
I drove a Grizzly 700 in Harlan. I didn't like it. The main reason is the lack of feedback from the steering. I like to know where the wheels are taking me and with the power steering, it didn't feel right. I also didn't like the wide tank.
Banned
Join Date: Apr 2008
Location: Morrisville
Posts: 1,548
My two friends I ride with have Grizzlys. One has an 06 Grizzly 660 which I think is nicer than the 700, and the other has a Grizzly 700 which I watched them change the oil in it and it was a pain in the but. However, the grizzly 700 is a peppy quad, and I definitly think it is faster than a Rinny, and it also has the diff locker and true 4wd. I still like my Rincon but I do like the Grizzlys, and Polaris Sportsman.
I personally feel it is all in what you are looking for. I think if you want a trail quad is the rincon is much better. If you want a mudder the griz would be better.
JMHO
---
Green 2007 Rincon with 26" Bighorns, Warn RT25 winch, Symtech heated grips/throttle, fly rod tube holders, Kimpex fender guards with foot pegs, Kolpin Bootector bracket, and Quadrax rear seat.
ASI Ridercourse Instructor.
After my 100 miles of Black Mountain in Harlan Ky. I now have a much greater respect for my Rincon. The trails were very rocky, mud holes every 100 yards and I now understand why ppl use esp for climbing hills. In auto second will not keep the speed up when climbing steep hills. I was afraid if I used auto mode the rinny would downshift while on a steep hill causing it to flip over on me.
I would like another gear.
---
~2005 Rincon black~
My brother has all Grizzlys. He has five 400 and 450 for rentals and one artic cat. His personal bike is the 660 and that thing is powerful. The steering I notice is too easy. I dont like the gear shifter. But the diff lock is sweet. I love my Rincon for the ride. I can go anywhere he can but the Griz has more ground clearance. What I do like about the Griz is that I can lean over the gas tank and it stands on end. The Rincon I need to lean back alittle but it still stands on end. Its all how you want to ride. My brother has a Chevy(Grizzly) and I ride a Cadillac(Rincon). The Artic Cat I wish he would get rid of it, I'm sick of working on it.
---
05 Rincon GPScape black, 25" ITP Mud lites,2500lbs warn w/ synthetic rope, black bag on rear rack, reverse lite, rev.override, cut carb spring, 60" snow plow, Rotopax fuel pack, Rinny: 4325 miles,431 hrs. Still running strong
2015 Harley-Davidson Electra Glide Ultra Limited
There was someone in our group that had a 07 Grizzly 700. His was mush faster than my 07 Rincon. His was all stock and mine does have the 26 inch wheels w/ mudlight tires. He was also caring 4 extra gallons of gas and a loaded front box. But then again I had maybe a extra 50 lb on him because of my size. Maybe it would be a better match if I was all stock? Or maybe I should loose 75 pounds? LOL. No a skinny Thor at 6 foot 4 inches. That would not look right. Needless to say I love my Rinny!

As for the 07 Sportsman 800. He really blew me away! I had no chance in hell. I was eating sand. Talk about being bitch slapped!
LOL Thor!!!

If you were eating sand, then you weren't too far behind ;-)
I road one a few times, they are a nice bike, but I like mine better. The power steering kicks ass, but I don`t need it cause I got guns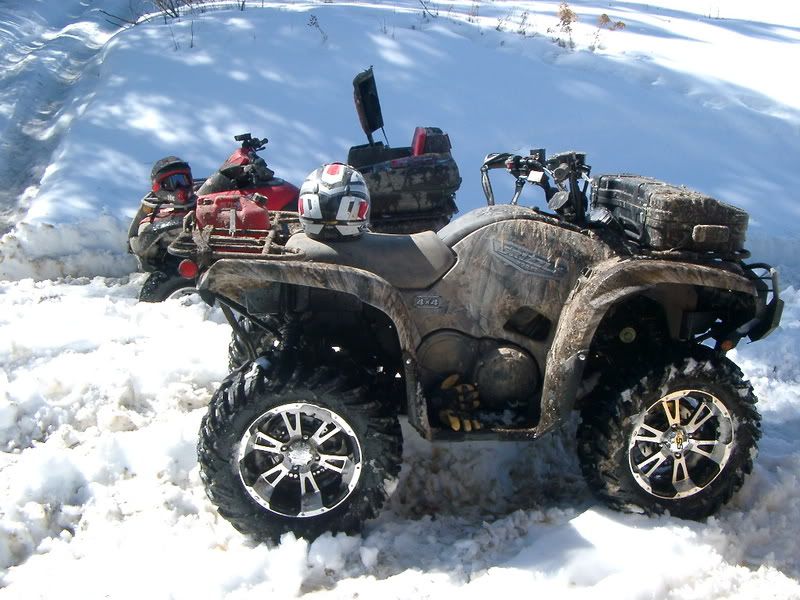 I looked long and hard at the grizzly before getting my Rincon, (which I knew I'd get anyway b/c I'm a Honda guy). but I didn't like the hieght and huge size of it. For trail riding, you can't beat a rincon, I do wish it had a locking diff and low range though.
---
07 Red Rincon
00 Red Recon
85 Big Red 250ES