Some photos and description on proper valve adjustment.
---
Here are some pics and detailed info on proper valve adjustment.
This is an 06 680 EFI so there are no fuel shut of valves on the gas tank that needs to be removed, I used a clamp to squeeze the line shut while I pulled it from the fuel pump.
The machine needs to be cool before adjusting valves and TDC on the compression stroke also needs to be found, please refer to the manual.
After the tank and plastic are removed, it will look like this.
After removing the valve covers, I started w/ the intake side. You must get the feeler gauge inserted correctly so its perpendicular with the valve stem or it will feel tight. The intake adjustment is .006. If adjustment is needed, you need to loosen the lock nut and turn the adjusting screw until slight drag is felt, remember that the feeler gauge needs to be perpendicular to the valve stem or excessive drag will be felt.
Working on the exhaust side, .013, same procedure as intakes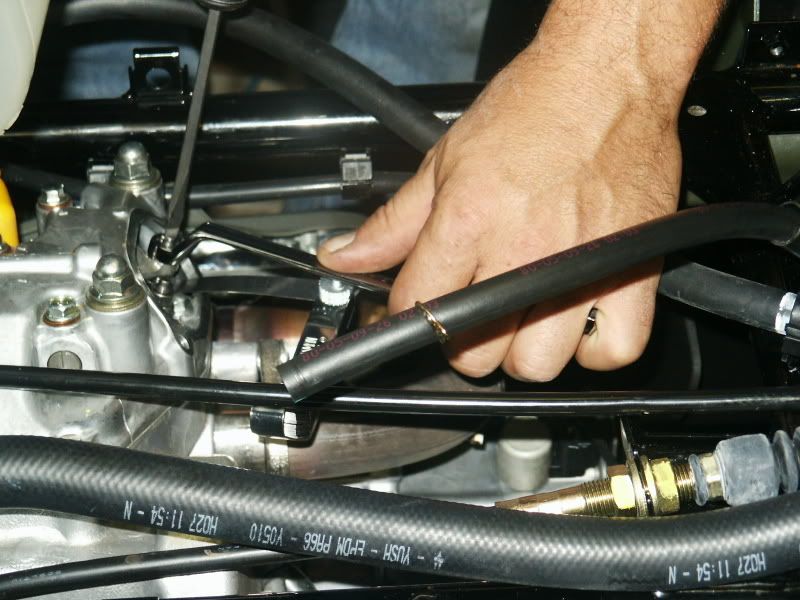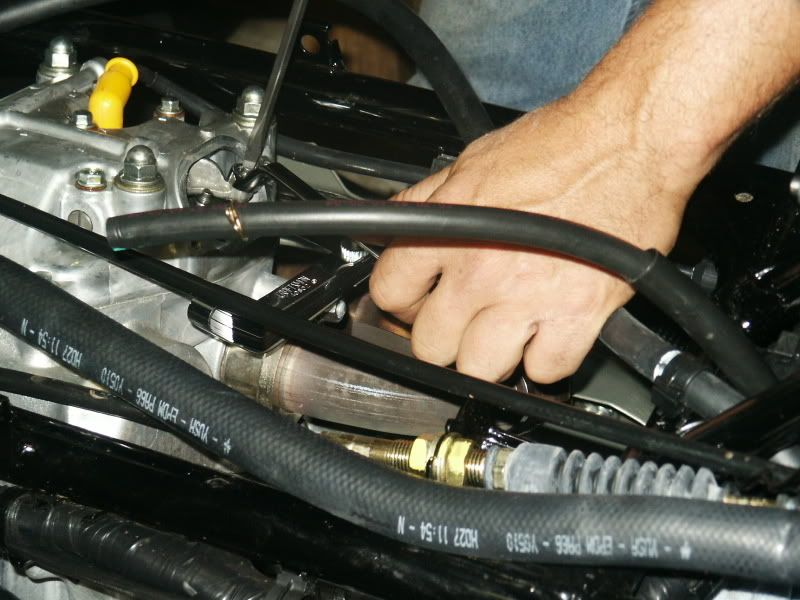 When you find that proper drag on the gauge, be sure when tightening the lock nut that you hold the adjusting screw so you dont loose your adjustment. After I made it hand tight w/ a 10mm wrench, I checked the torque and adjusted the lock nut to 12ftlbs.
The two brass nuts in the last photo on the cable are the shift linkage adjustment nuts, procedure for adjusting will follo shortly.
Put some oil on the valve cover caps and snug down. I cant find any torque value for these bolts so be careful, you can tell while tightening that they can be easily stripped out.
I would also like to thank my Minolta digital camera for the nice pics :-)
---
100% Wild, 100% Fair Chase!
Take a Child Hunting
Senior Member
Join Date: Jul 2005
Posts: 10,158
Good write up. Boy that bike sure is clean!




ultra, you dont need to adjust the valves if your not riding it !! have you named it yet ?

doesnt look like shes getting any !
Ultratec,
Do you have any pics of what TDC looks like at the T mark?
---
Impeach The US Government!
Why, because it no longer stands for Americans!

Government is not the answer to our problems, government is the problem!

Taxation is the antithesis of freedom.

2004 Yellow Honda Rincon with Warn 2500 winch, Moose cargo rack, Moose gun rack, Moose 60" Snow Plow, Honda trailer hitch, Yuasa YTX 20-BS Battery.
2006 Jeep Grand Cherokee Limited-5.7L V8 HEMI, Tilt utility trailer with Fastrap Tiedowns.
2007 Honda Shadow Aero 750, 2010 Massey Ferguson GC2410.
There is only about 75 miles on my 06, I havent been able to get too many miles on yet. I usually do about 500 a year and its not a year old yet.. But I got news for ya, if it had 5,000 miles it would look like that.. A clean machine is a happy machine :-) Her name is Wilma lol.

CJ, I tried to take a picture of the T mark but the photo didnt come out good, sorry.. I will try again.
---
100% Wild, 100% Fair Chase!
Take a Child Hunting
Senior Member
Join Date: Jul 2005
Posts: 10,158
Getting that TDC is a pain in the ass!




Senior Member
Join Date: Jul 2005
Posts: 10,158
Ultra, that bike gives a whole new meaning to green around the ears..lol




LMAO BD... Hahahahah NOT!

TDC is actually easy to find, well, not easy but not hard.. There are other dashed lines and an F to tell you the T mark is coming. But you may be on the intake stroke, so you would need to go around again. After playing w/ it a few times, I found that part pretty easy.
---
100% Wild, 100% Fair Chase!
Take a Child Hunting
Join Date: Sep 2003
Posts: 7
Here is a simple way to find TDCC:

Have the valve cover caps removed for access to the rocker arms. Use the pull starter to rotate the engine. As you pull the rope watch the intake valve rocker. The intake valve opens (Intake Stroke) then the intake valve will start to close (compression stroke). Once the intake valve has completely closed look for the 'T' mark on the flywheel. As Ultratec stated you will see the '||' mark (full advance marks) then the 'F' mark and the next mark is 'T' to for TDC.

So in short watch the intake valve to open then close. As it is closing look for the 'T' mark and you are now on TDCC.
Join Date: Mar 2006
Posts: 439
Great info Ultra!! Bump to the top.